- ECONOMIC IMPACT -
Latest update: 20 January
According to the Organisation for Economic Co-operation and Development (OECD), unemployment rates in OECD nations declined marginally to 6.9% in November 2020 from 7.1% in October 2020.
The Chinese economy expanded by 6.5% (YoY) in Q4 2020, taking the full year growth to 2.3% in 2020, the slowest rate in more than four decades, according to National Bureau of Statistics.
World Bank forecasts global economic growth at 4% in 2021 as vaccine rollout becomes widespread.
Consensus forecast for world GDP growth in 2020 is now -3.7%.
Impact of Covid-19 on equity indices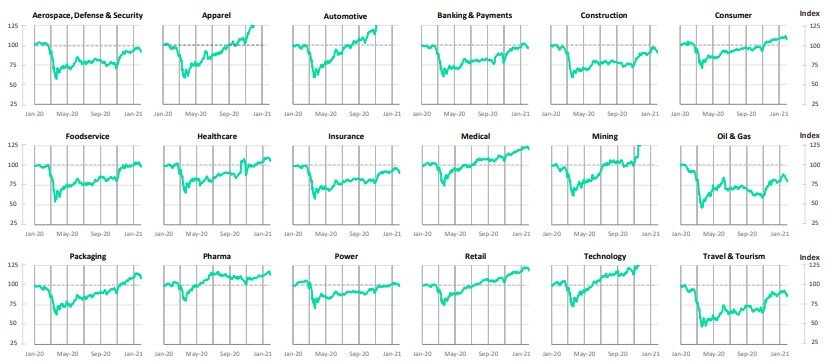 - SECTOR IMPACT: PHARMA -
Latest update: 02 February
Prophylactic vaccines are predicted to generate total sales of over $100bn from 2020 to 2026.
Peak sales for many Covid-19 therapeutic drugs is forecast to occur in 2026, which could be due to several of these drugs receiving approvals for other indications.
Pharmaceutical Value Chain impact
The Covid-19 pandemic has created a massive global effort centered around finding effective therapeutics and vaccines.

While development and commercialisation of a safe vaccine typically takes at least several years to materialise, Pfizer/BioNTech Covid-19 has beaten that timeline by a considerable margin with the UK becoming the first market to approve the jab.
Nevertheless, with pharmaceutical companies shifting their strategies to focus on the development of Covid-19-related assets, the non-Covid-19 drug development programs have been brought to a temporary backseat.
Developers with Covid-19 therapies and vaccines will benefit in the short-term, as intense investor interest will drive up stock prices and provide these companies with cash and resources to further pipeline development.
Key pharma market developments