CMO Moves: Regulatory catalysts for drug manufacturing – February
Pharmaceutical Technology Focus analyses recent regulatory announcements that will likely impact therapy manufacturing plans. By Fiona Barry and Manasi Vaidya.
Manufacturing a drug therapy usually involves several different stakeholders. Contract manufacturing organizations (CMOs) produce not only the active pharmaceutical ingredient (API) at the heart of a therapy, but are also responsible for the sterile manufacturing and packaging of liquid and inhalational drug constituents and packaging, depending on the needs of the particular therapy.
This ongoing series at Pharmaceutical Technology Focus is exploring the relationship between these CMOs and pharmaceutical and biotech companies that have recently received regulatory news concerning their pipeline assets. To identify key events from late December to late January, we collated manufacturing contract-related data has been from PharmSource reports, and news gathered by GlobalData's Pharma Intelligence Center, to identify participants who are likely to experience an impact following the news.
GlobalData is the parent company of Pharmaceutical Technology Focus.

EMA and NICE decisions come through
In late January, the European Union expanded the approved use of Daiichi Sankyo's and AstraZeneca's antibody-drug conjugate (ADC) Enhertu (deruxtecan) as a monotherapy to include the treatment of unresectable or metastatic HER2 low breast cancer adult patients. The ADC is already approved in the metastatic setting after chemotherapy or in the case of disease recurrence during or in six months after adjuvant chemotherapy. Baxter Biopharma Solutions has been contracted for the ADC's parenteral manufacture and packaging.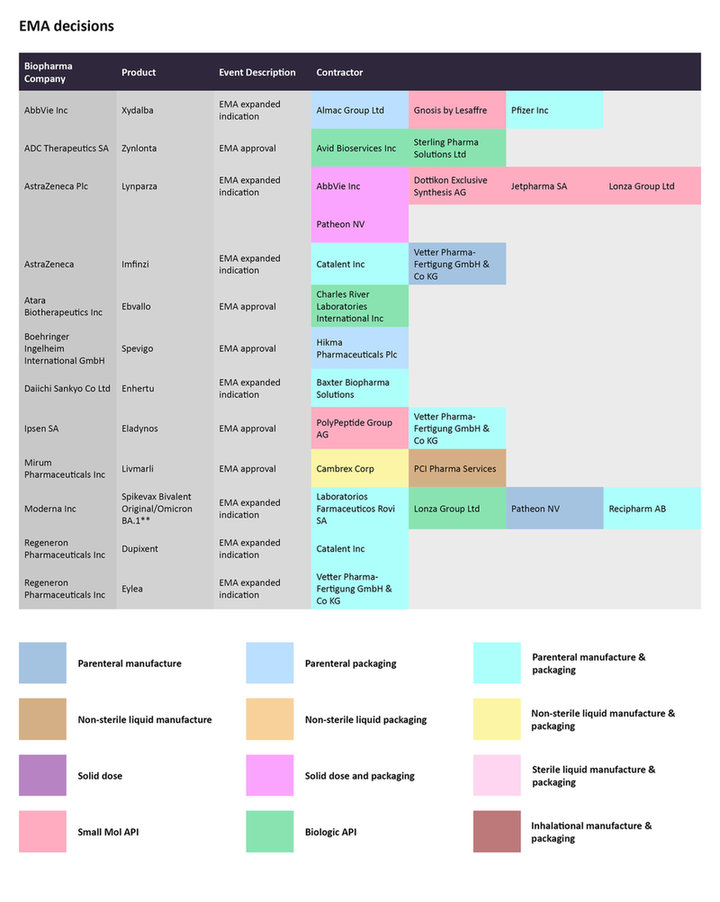 On 30 January, the European Commission approved Regeneron Pharmaceuticals and Sanofi's Dupixent (dupilumab) to treat eosinophilic esophagitis (EoE). The monoclonal antibody targeting IL-4 and IL-13 is approved in several chronic inflammatory conditions. The parenteral manufacturing and packaging for Dupixent is outsourced to Catalent.
Towards the end of 2022, the EC also awarded a conditional marketing authorisation for another ADC—Sobi and ADC Therapeutics' Zynlonta (loncastuximab tesirine) to treat relapsed or refractory (r/r) diffuse large B-cell lymphoma (DLBCL). In September, the EMA's Committee for Medicinal Products for Human Use had given a positive opinion regarding this use. Avid Bioservices and Sterling Pharma Solutions are manufacturing Zynlonta's biological API.
In the same month, the European agency also granted a marketing authorization for an off-the-shelf allogeneic T cell immunotherapy—Atara Biotherapeutics' Ebvallo (tabelecleucel)— to treat Epstein‑Barr virus positive post‑transplant lymphoproliferative disease patients. Charles River Laboratories is manufacturing the biological API for Ebvallo.
In the UK, the National Institute of Health and Care Excellence, recommended the use of Gilead Sciences' chimeric antigen receptor (CAR)-T therapy Yescarta (axicabtagene ciloleucel) for patients with relapsed or refractory diffuse large B-cell lymphoma (DLBCL) and primary mediastinal large B-cell lymphoma (PMBCL) who have had two or more lines of systemic therapy. Lonza is in charge of the parenteral manufacturing of Yescarta.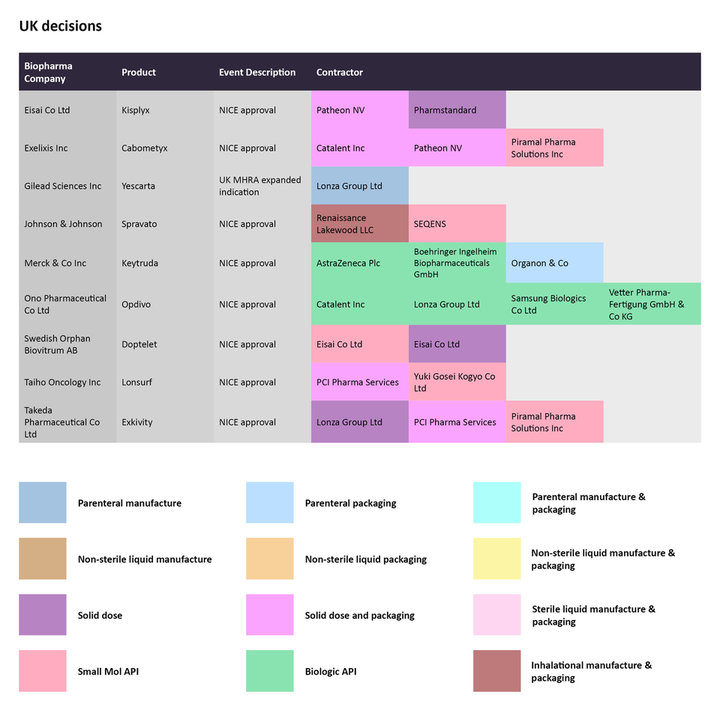 In January, NICE also recommended the use of Takeda Pharmaceutical's Exkivity (mobocertinib) for advanced or metastatic non-small-cell lung cancer (NSCLC) with epidermal growth factor receptor (EGFR) exon 20 insertion mutations, after platinum chemotherapy. While Lonza is responsible for the solid dose manufacturing, PCI Pharma Services is in charge of that along with packaging, and Piramal Pharma Solutions is manufacturing the small molecule API.